Continuing Education Credit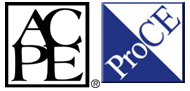 The Continuing Pharmacy Education (CPE) activities are being developed through a joint providership of ProCE, Inc. and the National Association of Specialty Pharmacy (NASP). ProCE is accredited by the Accreditation Council for Pharmacy Education as a provider of Continuing Pharmacy Education. The release date for these activities is September 9-11, 2019. The conference registration fee covers the cost of CPE credit. Participants must complete an online post-test and evaluation for each session they attend to receive pharmacy CE credit. Proof of completion will be posted in NABP CPE Monitor profiles. All post-tests and evaluations must be completed no later than TBD. No partial credit will be given for any individual session. The Target Audience for these CPE activities is pharmacists. Conflict of interest disclosures are required of all faculty and shall be provided to all participants at the conference. Educational grant support is pending. See the final CPE activity announcement for specific details on contact hours available and other CPE details.
Faculty Disclosure
As a provider accredited by ACPE, it is the policy of ProCE, Inc. to ensure balance, independence, objectivity, and scientific rigor in all educational activities. A potential for bias may exist if a continuing education faculty member is affiliated with or has a financial interest in any organization(s) that may have a direct interest in the subject matter of the presentation. Situations involving potential bias are not inherently problematic or unethical, but the prospective audience must be made aware of the affiliation or financial interest. It is intended that any potential bias be identified openly so that the audience is provided full disclosure of the facts and may form their own judgments about the continuing education activity content.
NASP Annual Meeting & Expo 2019 | September 9-12, 2019 | Washington, DC
CE Credit Instructions
To receive CE credit for the activities at this conference, you must complete the post-tests and evaluations online no later than TBD.
Visit www.ProCE.com/CSPE and click on the Evaluations link under the heading "Evaluation & CE Credit".
Click on the Evaluation button which is listed with the NASP Conference - September 9-11, 2019 CE activity.
Login to the ProCE CE Center. NOTE: You will need to sign up for a new account if you have not previously used the ProCE CE Center.
Enter the Attendance Codes for all of the CE sessions you attended. NOTE: Each session has a unique Attendance Code.
Take the post-test, complete the evaluation, and claim CE credit. NOTE: Complete the post-tests, evaluations, and claim CE credit only for the sessions you attended.
If you need assistance or have questions, please contact ProCE at 630-540-2848 or via e-mail at info@proce.com.